Emergency Bankruptcy Filing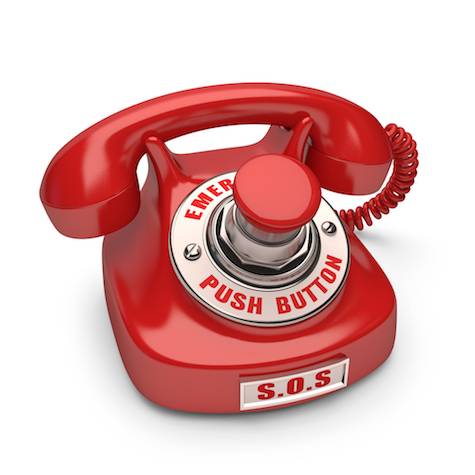 When filing for Chapter 7 or Chapter 13 Bankruptcy relief, the Bankruptcy Court requires you to fill out several forms in order for your case to begin.  From the Voluntary Petition, which is a general statement showing who is filing, what they are filing, their address, etc., to the establishment of a repayment plan (if filing a Chapter 13 case), you are faced with 40-70 pages of paperwork that must be completed fully and accurately before receiving relief.  Preparing beforehand and taking precautions early can help ease the process.  In certain circumstances, however, you might be faced with a time sensitive issue and cannot afford to spend time before hand completing the extensive paperwork that is required.  If this is the case, it may be beneficial to file an Emergency Bankruptcy.  An Emergency Bankruptcy, often referred to as a Skeletal Bankruptcy, requires for only a few forms to be filed initially in order to provide you with immediate relief.
When Should I File a Skeletal Bankruptcy?
The need for a Skeletal Bankruptcy may arise for several reasons.  One of the biggest reasons to file a Skeletal Bankruptcy is to enact the Automatic Stay. Once all necessary paperwork has been filed, the Automatic Stay is enacted.  The Automatic Stay prevents creditors from taking certain actions, such as home foreclosures or wage garnishments, against debtors.  When filing a Skeletal Bankruptcy, the filed paperwork meets the minimum requirement for the Automatic Stay to be activated.
The following are examples of how a Skeletal Bankruptcy can prevent debtors from the immediate loss of their home or paychecks: 
EXAMPLE 1 - Jim and Nancy are homeowners but have not made a mortgage payment in 20 months.  Despite missing payments, the two have been attempting to receive a loan modification and have tried to discuss options with their mortgage company.  While Jim and Nancy were hopeful they could avoid a foreclosure on their home, their efforts were not successful, and their home is to be sold at a public auction tomorrow.  If Jim and Nancy had chosen to file a Skeletal Bankruptcy, the Automatic Stay would have prevented their home foreclosure and immediate sale of their property.
EXAMPLE 2 – Over the last few years, Rebecca has been suffering from unemployment, which has caused her to struggle with making essential payments.  As a result, she has fallen behind on her monthly payments, including several credit card payments.  As a result, a particular credit card company sued Rebecca for $10,000.00 and unfortunately, was awarded a judgement for the full amount.  However, Rebecca is still unable to make payments to the creditor.
Recently, Rebecca was hired and secured a good job.  As a result of the previous actions taken against her, Rebecca was served an Earnings Withholding Order (i.e. Wage Garnishment).  This Court order automatically requires Rebecca's employer to withhold 25% of her earnings starting from her next paycheck and send that amount directly to the creditor.  Since Rebecca cannot afford to lose 25% of her disposable income, she can choose to file an emergency Skeletal Bankruptcy and allow for the Automatic Stay to prevent her wages from being garnished.
Requirements for a Skeletal Bankruptcy
When filing a Skeletal Bankruptcy, you are required to make a payment for the Court Filing Fee.  Currently, the fee for filing a Chapter 7 is $335.00 and $310.00 for a Chapter 13.  If eligible, you may be able to request an installment agreement to pay the court filing fee post-filing.  As for paperwork and documentation, an emergency Skeletal Bankruptcy only requires 3 documents to be filed: the Voluntary Petition, the Statement of Social Security Number, and the Verification and Master Address List.
VOLUNTARY PETITION – The Voluntary Petition documents your personal information and provides a summary of information required for your case.  More specifically, the Voluntary Petition includes:
Your full name
Any other names used within the last 8 years
The last 4 digits of your SSN
Any business names
Address
Venue declaration
Which Chapter you are filing
Description of the filing fee
Any prior cases which occurred within the last 8 years
Pending cases
Rental declaration
Business declaration
Chapter 11 declaration
Hazardous property declaration
Declaration of credit counseling– Within the 180 days prior to filing a Bankruptcy, you must complete a credit counseling course.  Upon completion, you will receive a certificate that must be filed as either an exhibit with the Skeletal Bankruptcy or with the remaining documents within 14 days.  Under rare circumstances, a person can waive their requirements to complete the credit counseling course.
Type of debts
Chapter 7 declaration
Estimation of creditors
Estimation of assets
Estimation of liabilities
STATEMENT OF SOCIAL SECURITY NUMBER – As its name suggests, the Statement of Social Security Number is a document which lists your complete social security number.
VERIFICATION AND MASTER ADDRESS LIST – The verification and master address list includes all of your creditors.  For example, if you currently owe money on 5 credit cards, 3 medical bills, 2 personal loans, 1 car loan, and 1 mortgage, they must all be included on this document along with their mailing address.
What Happens After the Skeletal Bankruptcy is Filed?
Once you have filed your Skeletal Bankruptcy, the Court will immediately draft and file a "NOTICE OF INCOMPLETE FILING OR FILING OF OUTDATED FORMS AND NOTICE OF INTENT TO DISMISS CASE IF DOCUMENTS ARE NOT TIMELY FILED."  In other words, within 14 days of filing your Skeletal Bankruptcy case, you must file the rest of the bankruptcy documents required for a Chapter 7 or Chapter 13.  If not completed on time, your case will automatically be dismissed, unless the Court has granted an extension. 
The following documents are required:
Attorney's Disclosure Statement
Form 122A-1 Statement of Monthly Income
Schedule A/B – Real and Personal Property
Schedule C – Exempt Property
Schedule D – Secured Creditors
Schedule E/F – Unsecured Creditors
Schedule G – Executory Contracts
Schedule H – Codebtors
Schedule I – Current Income
Schedule J – Current Expenditures
Statement of Financial Affairs
Summary of Assets and Liabilities
Chapter 13 Plan (Chapter 13 cases only)
What Should You Do?
Although Skeletal Bankruptcy is not the best scenario to be in, it can still be useful in times of financial hardship.  If possible, it is best to be prepared ahead of time and reach out to a bankruptcy attorney to discuss your situation.  However, we cannot always predict the future or avoid life's unexpected moments.  Sometimes your only option for the immediate security of your assets is to file a Skeletal Bankruptcy. 
If you are facing immediate actions against you by creditors and cannot afford to lose any time, contact Sacramento Bankruptcy Lawyer at 916-800-7690 ASAP and allow our skilled Bankruptcy Attorney Pauldeep Bains to guide you through your situation.  Mr. Bains can assist you in filing your emergency Skeletal Bankruptcy promptly to prevent you from further losses.
We help clients in the following areas: Sacramento, Elk Grove, South Sacramento, West Sacramento, Natomas, Citrus Heights, Antelope, Fair Oaks, Gold River, Rancho Cordova, Roseville, Rocklin, Lincoln, Wheatland, Yuba City, Marysville, Woodland, Davis, and Lodi.