Emergency Bankruptcy Filing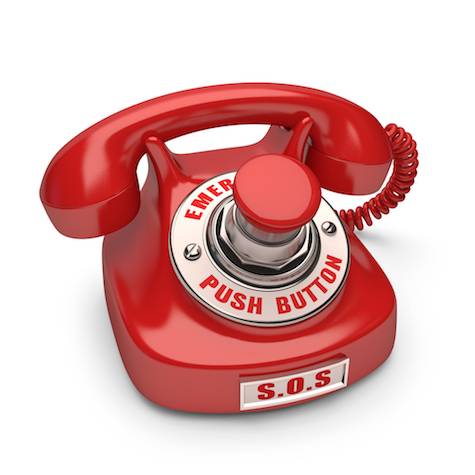 When filing for either Chapter 7 or Chapter 13 Bankruptcy, there are several forms that you are required to file with the Bankruptcy Court. For example, you will need to gather proof of the prior 6 months of income that you've earned and file what is often referred to as a Means Test. Moreover, you will need to file a list of all the assets that you own (i.e. homes, cars, furniture, bank accounts, etc.) and value each item.  Those are only 2 of the items that a Bankruptcy filing will require.  The complete filing generally is 45-60 pages long.
Gathering the information to complete all of the required forms can sometimes be a timely process if you aren't properly prepared. If time is of the essence and you are unable to gather all of the necessary documents, you can file an emergency Bankruptcy which only requires a few forms to complete.  This filing is often referred to as a Skeletal Filing. If correctly filed, this will initiate your Bankruptcy case and provide you with certain protection that is only available under Bankruptcy relief.
Why File A Skeletal Bankruptcy?
The main reason one might need to file a Skeletal Bankruptcy is to initiate the Automatic Stay and stop a creditor from taking a certain action. The two most common creditor actions that you would want to stop by filing a Skeletal Bankruptcy are your home from foreclosing or your wages from being garnished.
EXAMPLE 1 – Alex and Kelly own a home and haven't paid the mortgage payment in 20 months. During that time, they have attempted to attain a loan modification and work out other alternative solutions directly with the mortgage company. Alex and Kelly have continued to think that they could work it out with the mortgage company and avoid a foreclosure. However, none of this has worked and now their home is set to sell at a public auction tomorrow afternoon at 1:00 PM. By calling Sacramento Bankruptcy Lawyer, Sacramento Bankruptcy Lawyer Pauldeep Bains would be able to quickly and efficiently evaluate your case and under the right circumstances, file your Skeletal Bankruptcy Petition prior to the foreclosure from occurring and thus not allowing your home to be sold at a public auction tomorrow at 1:00 PM.
EXAMPLE 2 – Tracy has been struggling with her finances for the past several years and has become seriously delinquent on several credit cards. The main reason for this delinquency is because Tracy was unemployed for the majority of that time and was unable to make her monthly payments. Moreover, during that time Tracy was sued by a particular credit card company for $8,000.00 and unfortunately, the creditor won the lawsuit and was awarded a judgment for the full amount. Again, Tracy has been unable to make any payments to the creditor.
Tracy has now secured an excellent job and her future is looking bright. However, Tracy was just served an Earnings Withholding Order (i.e. Wage Garnishment) today and the Order directs her employer to withhold 25% of earnings starting on her next paycheck and send it to the above creditor. Tracy cannot afford to lose 25% of her disposable income and does not know what to do. In this situation, Sacramento Bankruptcy Lawyer could do a thorough analysis of her situation and potentially file an emergency Skeletal Bankruptcy. Once filed, the Automatic Stay would immediately initiate and Tracy's wages would no longer be at risk to be garnished.
What Is Needed For A Skeletal Bankruptcy?
One thing that is needed to file your Skeletal Bankruptcy is payment of the Court Filing Fee. The Court Filing Fee is currently $335.00 for a Chapter 7 and $310.00 for a Chapter 13. Moreover, since the latest changes that occurred on December 1, 2015, there are only 3 documents that are required to be filed for an emergency Skeletal Bankruptcy. The 3 documents that you will need to file are the Voluntary Petition, the Statement of Social Security Number, and the Verification and Master Address List.
Voluntary Petition – The Voluntary Petition is the document that contains your personal information and a summary of certain information in your Bankruptcy case. In particular, the Voluntary Petition will contain the following pieces of information:
Your full name
All other names used in the last 8 years
The last 4 digits of your SSN
Any business names
Address
Venue declaration
Notation of which Chapter you are filing
Description of the filing fee
List of any prior cases within the last 8 years
Pending cases
Rental declaration
Business declaration
Chapter 11 declaration
Hazardous property declaration
Declaration of credit counseling – within the 180 days prior to filing a Bankruptcy, you must complete a briefing from an approved credit counseling agency. The certificate proving you completed that course must either by filed as an exhibit with the Skeletal Bankruptcy or filed with the remaining documents within 14 days. There are rare circumstances where a person can waive their requirements to complete the credit counseling course.
Type of debts
Chapter 7 declaration
Estimation of creditors
Estimation of assets
Estimation of liabilities
Statement of Social Security Number – The Statement of Social Security Number is exactly what it sounds like---a document that lists out your complete social security number.
Verification and Master Address List – This is a complete list of all of your creditors. For example, if you owe money on 5 credit cards, 3 medical bills, 2 personal loans, 1 car loan, and 1 mortgage, they will all be listed on this document along with their mailing address.
What Happens After The Skeletal Bankruptcy Is Filed?
After your Skeletal Bankruptcy is filed, the Court will immediately draft and file a document titled "NOTICE OF INCOMPLETE FILING OR FILING OF OUTDATED FORMS AND NOTICE OF INTENT TO DISMISS CASE IF DOCUMENTS ARE NOT TIMELY FILED". This document lists out each document you will need to file within 14 days of your Skeletal Bankruptcy being filed. If the documents are not timely filed, or an extension is not granted, your case will automatically be dismissed by the Clerk of the Court. Generally speaking, the additional documents that you will need to file are:
Attorney's Disclosure Statement
Form 122A-1 Statement of Monthly Income
Schedule A/B – Real and Personal Property
Schedule C – Exempt Property
Schedule D – Secured Creditors
Schedule E/F – Unsecured Creditors
Schedule G – Executory Contracts
Schedule H – Codebtors
Schedule I – Current Income
Schedule J – Current Expenditures
Statement of Financial Affairs
Summary of Assets and Liabilities
Chapter 13 Plan (Chapter 13 cases only)
What Should You Do?
Under perfect conditions, you would never need to file a Skeletal Bankruptcy. If avoidable, you should not wait until the last minute to discuss your specific case with a knowledgeable Bankruptcy Attorney. However, reality is not always perfect and sometimes the Skeletal Bankruptcy will be your only option of waking up tomorrow and still owning your home or receiving your full paycheck.
If you feel that you need to file an emergency Bankruptcy but do not think there is enough time, call Sacramento Bankruptcy Lawyer at 916-800-7690 ASAP and allow our skilled Bankruptcy Attorney to analyze your particular situation. If filing for an emergency Bankruptcy is in your best interest, Mr. Bains will work diligently and efficiently to beat the deadline. In some circumstances, Mr. Bains will be able to have your case filed within hours of your initial contact with our office.
We help clients in the following areas: Sacramento, Elk Grove, South Sacramento, West Sacramento, Natomas, Citrus Heights, Antelope, Fair Oaks, Gold River, Rancho Cordova, Roseville, Rocklin, Lincoln, Wheatland, Yuba City, Marysville, Woodland, Davis, and Lodi.