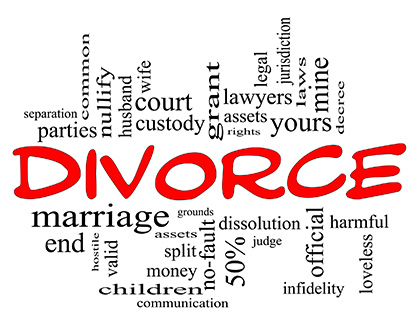 Going through a divorce is one of the most difficult times in one's life. Along with the constant battling between you and your soon-to-be ex and the emotional stress, you are forced to decide how to divide up community assets, determine alimony/child support, and custody agreements. With this comes many changes for your finances. Everyone's financial state differs upon the time of their divorce. For some, financial difficulties may have been an ongoing problem that ultimately led to the demise of their marriage, while others might not have experienced issues until after their divorce process has concluded. In fact, many often cite divorce as their primary reason for filing for bankruptcy. To learn more about how divorce and bankruptcy affect each other, continue reading below.
FILING FOR BANKRUPTCY
Often, people choose to wait until after their divorce has been finalized to begin filing for bankruptcy relief.  However, it can be both time and cost-effective to file for Chapter 7 relief before your divorce has been finalized.  If you are choosing to file under Chapter 13, it is better to wait until after the divorce has been finalized since repayment plans last for three to five years. 
When a married couple files for bankruptcy, they do not file as individuals and instead submit a "joint petition."  This allows for couples to file only one set of documents and simplifies the process for them.  When a couple is going through a divorce and filing for bankruptcy, they still may choose to file together.  By filing a joint petition, both spouses can have debts discharged.  In addition, joint petitions are a cheaper option since both parties are filing together.  If you choose to file individually, it may be in your best interest to file under a Chapter 13 bankruptcy instead of a Chapter 7 due to the length of repayment plans. 
If your ex has already filed for bankruptcy relief and received a discharge, it may be beneficial for you to file as well.  When filing for joint bankruptcy, both spouses are liable for the included debts.  Once you and your spouse have finalized your divorce and he/she has filed for bankruptcy, he/she will eliminate the debts he/she was liable for.  This will make you responsible for paying off the remaining debts to creditors.  If you fail to make payments, creditors are likely to file a lawsuit against you or even garnish your wages until your balance is paid.
Contact Attorney Pauldeep Bains today to determine how filing for bankruptcy may help you and prevent creditors from taking further action against you.
DIVISON OF PROPERTY
Once you and your ex-spouse have completed the bankruptcy process together, it will ease the process of dividing property.  However, it is important to be aware of your state's guidelines before filing a joint bankruptcy case.  Some states allow you to protect all property owned between the two of you, while others may double the exemption amounts.  If you live in a state where you are unable to double your exemptions and have more property than is allowed in a joint case, it might be better for you to file as an individual after your property has been divided.
CHILD SUPPORT & ALIMONY
If you share children with your ex-spouse, you may be required to make child support or alimony payments.  Although filing for bankruptcy can provide ease to your life post-divorce, it cannot eliminate any payments required for child support or alimony.  Child support and alimony are both considered non-dischargeable debts and cannot be eliminated under any form of relief.  If you fail to make payments, further action may be taken.
HOW WILL A BANKRUPTCY ATTONREY HELP ME?
Divorce and bankruptcy often go hand-in-hand.  One of the most popular reasons for divorce is due to financial issues.  While a divorce no longer ties you to your spouse, you both are still responsible for certain obligations that affect each other.  For example, if your ex-spouse was ordered to continue making payments on a credit card but has failed to do so, the credit card company may reach out to and require that you continue to make the outstanding payments.
If you choose to ignore these issues, many problems may arise in the future.  At Sacramento Bankruptcy Lawyer, we strive to you move forward after finalizing your divorce and take the necessary steps for the most effective relief.  Mr. Bains is devoted to assisting people out of financial setbacks, such as going through a divorce, and will carefully review your case to provide you with the best options.  Call us today at 916-800-7690 or send us a message online in order for to set your FREE consultation with local Bankruptcy Attorney Pauldeep Bains.
We help clients in the following areas: Sacramento, Elk Grove, South Sacramento, West Sacramento, Natomas, Citrus Heights, Antelope, Fair Oaks, Gold River, Rancho Cordova, Roseville, Rocklin, Lincoln, Wheatland, Yuba City, Marysville, Woodland, Davis, and Lodi.