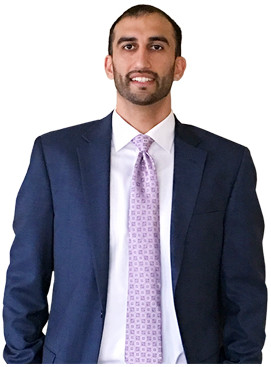 Sacramento Bankruptcy Lawyer was formed by local Sacramento Bankruptcy Lawyer Pauldeep Bains with the specific intent of delivering impeccable personal service to all clients while utilizing a streamlined process to promote efficiency and a stress-free atmosphere. When contacting Sacramento Bankruptcy Lawyer, you will deal directly with Mr. Bains from the initial consultation all the way through the completion of your Bankruptcy case. Your case will not be handed off to a paralegal or staff member at any point during your case. Mr. Bains' philosophy is to provide a personalized, hands-on attorney-client relationship in a detailed, logical, and respectful manner.
Since passing the Bar on his first attempt in 2009, Mr. Bains has worked at two separate Bankruptcy law firms as an Associate Attorney. His primary practice has always been and continues to be Chapter 7 and Chapter 13 Bankruptcy relief. Mr. Bains has filed hundreds of Bankruptcy petitions for individuals across the greater Sacramento area and his results are immaculate. Mr. Bains has handled Chapter 13 clients that were on the verge of losing their homes and he was able to develop feasible Chapter 13 plans wherein the debtors saved their homes and successfully restructured their debt. Moreover, Mr. Bains has filed numerous Chapter 7 cases to stop a client's wages from being garnished, a vehicle from being repossessed, and has provided debtors that much needed second chance that they so desperately needed. In his spare time, Mr. Bains enjoys spending time with his family and friends, sports such as basketball, football, and snowboarding, and watching movies.
Please do not hesitate to contact Sacramento Bankruptcy Lawyer ASAP at 916-800-7690 for your FREE no-hassle consultation!