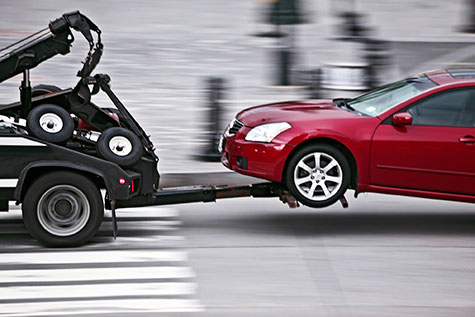 Do you know what to do if your vehicle is on the verge of being repossessed? How about if your vehicle has already been repossessed and now you have no means of transportation? Well, if you are like most consumers, odds are that you don't know what your legal rights are in this situation.
Who can repossess your vehicle?
There are two different people that can legally repossess your vehicle. The more common one is someone that is registered with the Bureau of Security and Investigative Services (BSIS). If you are unsure if the person attempting to repossess your car or truck is registered with BSIS, ask to see their identification card. If the person is not registered with the BSIS, they must be the actual lender or an employee of the lender to repossess your vehicle. This will generally be the dealership you purchased it from or the bank that gave you the loan.
Why can they repossess my vehicle?
When you purchased your car, you signed a contract with the lender that, like most people, you didn't read. Buried in that contract were certain terms that you agreed to. One of those terms was the promise that you will make monthly payments to the lender and if you fail to do so, the lender has the right to repossess your vehicle. Don't beat yourself up too much though---even had you read it fully and wanted to remove that language from the contract, the lender would not have allowed it.
When can they repossess my vehicle?
Some contracts allow for a grace period for you to make a payment without the risk of your car being repossessed. However, as soon as that grace period is up (or if no grace period is required, then as soon as the payment due date passes), the lender is able to legally repossess your vehicle.
Do they have to notify me after they repossess my vehicle?
Yes, they must notify you within 48 hours (unless the period includes a holiday or weekend) after the repossession took place.
What happens to my personal belongings that were in the car?
The repossessing agency must take a full inventory of your personal effects and is required to hold them for you for up to 60 days. However, they generally charge a storage fee to do this so if you want those items back, contact the lender and retrieve your items ASAP to avoid costly storage fees.
Do I have any options now that my vehicle has been repossessed?
Reinstate the Loan – Contact the lender and request a reinstatement quote. This will show you how much you to need to pay to get current on the loan. It will include your missed payments, late fees, repossession fees, storage fees, etc. If you pay this amount to the lender prior to them selling it at an auction, which is generally at least 15 days after the repossession, you will be able to get your vehicle back.
Redeem the Loan – As hard as the option above seems, this one is even more difficult. To redeem the loan, you would need to pay to the lender the full amount owed on the vehicle. If you do this prior to the vehicle being sold at an auction, the vehicle would be yours.
Do nothing – If you do not want the vehicle back, you can literally do nothing. The lender will eventually sell the vehicle at an auction. However, you do need to be aware that if this is the route you take, you are legally liable for the difference in the balance owed on the vehicle at the time of the repossession and the auction sale price of the vehicle, plus any accrued fees. Since it's being sold at an auction, expect the sale price to be much lower than you would have anticipated.
Do I have any better options?
Yes! Whether you want to get your vehicle back or not, filing for bankruptcy relief can be the much wiser and much more realistic option once your vehicle has been repossessed.
What can a Chapter 7 do for you? Let's say you've had your vehicle recently repossessed from you. When it was repossessed, you owed $27,500.00 remaining on the payments. Not wanting the vehicle back, the lender eventually sold your vehicle at an auction for a measly $11,000.00. Now you've just received a bill in the mail from the lender for the remaining $16,500.00. This amount is called the delinquency amount and you are legally responsible for it. However, if you decide to file for Chapter 7 and receive a discharge in that case, you will have eliminated your legal obligation to pay that delinquency balance to the lender or any collection agency that they send it to.
What can a Chapter 13 do for you? Once your vehicle has been repossessed, you have a short window where you can still force the lender to return your vehicle to you without paying them one penny. By filing for Chapter 13 relief prior to the lender selling your vehicle at an auction, the lender is required by law to turn your vehicle back over to you. You now get to spread the balance of the loan over a 5-year period as long you remain in the Chapter 13 and make the necessary payments. Moreover, Chapter 13 allows you the opportunity in certain cases to cram down the amount owed on the vehicle to the fair market value of said vehicle. Finally, in some instances you can also lower the interest rate that you are paying on the vehicle loan down to a reasonable rate. Thus, if getting your vehicle back is your ultimate goal, Chapter 13 will you give you that opportunity.
How can Sacramento Bankruptcy Lawyer help?
If you've missed a payment on your vehicle loan and are afraid your car will soon be repossessed or if you've already had your vehicle repossessed, contact Sacramento Bankruptcy Lawyer and speak with our experienced and knowledgeable attorney. Attorney Pauldeep Bains has helped countless consumers successfully resolve their financial issues.
We help clients in the following areas: Sacramento, Elk Grove, South Sacramento, West Sacramento, Natomas, Citrus Heights, Antelope, Fair Oaks, Gold River, Rancho Cordova, Roseville, Rocklin, Lincoln, Wheatland, Yuba City, Marysville, Woodland, Davis, and Lodi.