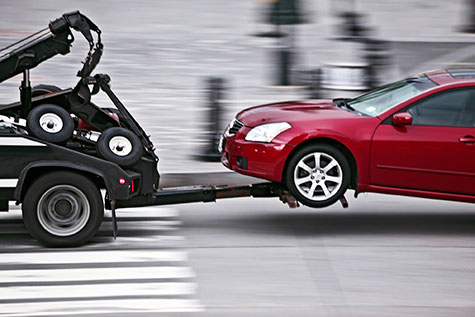 When financing a vehicle, you may take out a loan to help make payments on your purchase. This is known as a secured debt. Secured debts provide creditors with collateral. This allows them to have some sense of interest in your vehicle. A collateral provides lenders with a form of security when dealing with risky situations. For example, if you default on payments for a loan you took out to finance your new vehicle, the lender can repossess your vehicle as a way to get their money back.
While the lender is the one pursuing the repossession, in most cases, they will not be the one physically taking your vehicle. Generally, someone from the Bureau of Security and Investigative Services (BSIS) will come to repossess your vehicle. BSIS was created in 1915 as a private investigation service. Over time, the bureau expanded to take on other issues outside of private investigation, such as vehicle repossessions. If you are unsure about whether or not the person sent to repossess your vehicle is licensed through BSIS, you can verify their license by using BSIS's online service. In some situations, someone else from the lender's company or even the lender may come to initiate the repossession.
WHAT HAPPENS WHEN A VEHICLE REPOSSESION OCCURS?
Buying or leasing a vehicle involves signing a contract. This contract contains details regarding repossession. Generally, this states that each month you will make a payment of $X to the lender. If you fail to do so, the lender has the right to take action against you and take back your car. Once the vehicle is back in their possession, it will then be auctioned off and the money earned will go towards your outstanding balance.
The contract will also list when a repossession may occur. If you miss a payment and pay it past its due date, you will most likely not have to worry about a repossession the next day. Contracts usually provide a deadline for the last possible date to make a payment before a repossession happens. If you have not yet reached this deadline and the lender pursues a repossession, they are not legally able to do so at the moment. Once the car has been repossessed, you must be notified within the next 2 business days. However, the lender is not required to provide you with notice that a repossession will be occurring.
In order to find the car, the agency will receive all of your information from the lender. This includes your home address, and if known, school and work addresses. Additionally, cars with navigation systems contain a tracking device that keeps track of where your car is driven. Automotive companies have access to this data and have the right to release this. The repossessing agency can use all of this information to determine where they may be able to find your car. Additionally, they will also check the surrounding areas of where you commonly are to see if you have hidden your car somewhere else. For example, the repossessing agency may circle your entire neighborhood to see if your car is parked outside of someone else's home.
There are additional rules the repossessing agency must follow. For example, in order to repossess your vehicle, it must be located in an open space. The repossessing agency cannot break into your garage or property to gain access to your vehicle. Say your car is parked outside of your home. The agency may repossess it, but if it is parked in your closed garage, they will not be able to do so. The repossession agency cannot cause any damages, so they will not be able to break down your garage door or any other property that is in the way. There are certain methods that may be used that may sound illegal but actually allowed in repossessing a vehicle. This includes:
Hotwiring the vehicle
Making a copy of the vehicle's key and using it to obtain the vehicle
Taking the car from a private garage when the door is still open
MY VEHICLE HAS BEEN REPOSSESSED, NOW WHAT?
Cars are usually full of personal belongings. If your vehicle has been repossessed, the party responsible for taking your car, for example BSIS, will take everything that is inside. They will list any items and you will have 60 days to pick them up. It is important to contact the lender quickly because you will be charged a storage fee for the items held by the repossessing company.
If your vehicle has been repossessed, there are several options you can take. This includes the following:
Working with the lender to reestablish the loan: In some cases, it is possible for the lender to reconsider the situation and let you get your car back. This is referred to as reinstatement. If your vehicle has just been repossessed, get in contact with the lender to see if they will be willing to offer you a reinstatement quote. The reinstatement quote will include any neglected payments, as well as any costs endured by the repossession, such as storage fees. In some cases, this option of receiving a reinstatement quote may even be written into your contract, so double-check and see if this applies in your case. If you do not feel the reinstatement quote is correct and accurate, you may choose to complete a "notice of error." In this letter, you will describe whichever faults you find in the given quote. If the lender acknowledges the mistakes, they will make adjustments. Since the auction will not occur for at least 15 days, you must pay the reinstatement quote fully to your immediately before in order to prevent your car from being auctioned off. If you are successful in doing so, you will be able to get your car back and continue with regularly paying the lender as established in your contract.
Pay off entire outstanding balance: An alternative, but much more financially strenuous option, is to pay the lender the remaining balance of the vehicle, also known as the right of redemption. Again, this must be done prior to the auction which means you may have as little as 15 days to gather the funds and give them to the lender. Your total owed will be the balance in addition to any additional fees, such as repossession and storage fees. Once your vehicle has been repossessed, the lender will include this amount in the repossession notion. In some cases, this notice may take several days to come. If it has been 5 days since your vehicle has been repossessed and you still have not received the notice, contact your lender immediately to ask what the amount owed is since your time is limited to pay them back. If successful, the vehicle is returned to you, and you will not have to worry about a repossession in the future.
Attending the auction and buying back the vehicle: If you wish, you may attend the auction and bid on your car. Since cars sell at a much lower amount in an auction, you may be able to win it back. If you are successful in doing so, you still will be required to pay your outstanding balance in addition to costs that accumulated over time.
Nothing: If you wish, you can choose to not take any action one your vehicle has been repossessed. The vehicle will be auctioned and you will no longer own the car. However, you still will be responsible for some payment. If the vehicle is auctioned off at a lower price than the amount you currently owe, then you will be required to pay the difference, also referred to as the deficiency balance. For example, if you had a balance of $25,000 but the vehicle only auctioned for $10,000, you will be required to pay the lender $15,000, as well as any interest that has built over time. If you fail to do so, the lender may take further action against you and file a lawsuit with the Court.
FILING FOR BANKRUPTCY
Alternatively, filing for bankruptcy can provide you with a much better option than those listed above. Regardless of which chapter you file, the Automatic Stay will be enacted once your petition has been filed with the Court. The Automatic Stay protects creditors from taking action against you. This includes protecting you from having your vehicle repossessed.
In some cases, you may not have thought to file for bankruptcy until after your car has been repossessed. If you file after, your bankruptcy filing will still be able to help you. If you file a Chapter 7 bankruptcy, your assets will be liquidated and the money earned will be used to pay your creditors. You have several options for dealing with your vehicle in a Chapter 7 filing. Upon filing, you will fill out a form titled the Statement of Intention for Individuals Filing Under Chapter 7. Here, you will list your secured debts and any leases that have not yet expired. You have the option to continue with or rid yourself of the lease. An example of this may be choosing to no longer continue with your car's lease. If you choose to do so, you will no longer be responsible for making payments towards your car after receiving your discharge. If you choose to keep your car but have fallen behind on payments, you can pay off the balance and redeem it if you can afford to do so. Otherwise, the creditor may be willing to offer you a reaffirmation agreement. The reaffirmation agreement must be court-approved.
When filing a Chapter 13 bankruptcy, a repayment plan is created to help you pay creditors over the next 3 to 5 years. If you complete your filing before your car has been repossessed, its payments will be made through your repayment plan and you will continue to own it. The amount owed will be factored into your repayment plan and you will make payments as scheduled. Additionally, you will be able to receive lower interest rates. If the amount owed exceeds the car's actual value, then you may be able to reduce the loan and its interest rate through a cramdown. For example, if you owe $15,000 but your car's value has depreciated to $10,000, cramming down will allow you to only pay $10,000 through your repayment plan. However, if you purchased your car in less than 910 days before your bankruptcy petition was filed, you will be ineligible to utilize a cramdown.
HOW TO AVOID VEHICLE REPOSSESION
In order to prevent yourself from having your vehicle repossessed, it is important to stay up to date on your payments and make them on time. Additionally, you should do the following:
Catch up on missed payments: Contracts generally include a grace period that allows you to catch up on any payments you have missed. As long as your payments are made within this date, you will not be at risk of having your vehicle repossessed. However, you must remember to include any late fees that were incurred.
Give up the Vehicle: If you continue to make your payments late and do not see yourself being able to afford your vehicle, you may be able to negotiate with the creditor and get out of your lease early. It is important that you and your creditor have developed and signed a written agreement so that they cannot continue pursuing you for payments.
Refinancing: If it is getting more difficult to make your payments each month, you may want to consider refinancing your loan. By doing so, your lending company may be able to adjust your loan and make changes in regard to your monthly payments or even the loan overall. This takes into account interest rates, as well as the value of your car.
HOW CAN WE HELP?
If you fear that a vehicle repossession may be in your future or have just lost your car due to a repossession, contact Sacramento Bankruptcy Lawyer today. Attorney Pauldeep Bains will walk you through your options and help you determine which course of action is best for you. Mr. Bains will help you avoid a repossession and potentially work to help you get your vehicle back. If you decide to file for bankruptcy, Mr. Bains will assist you every step of the way and ensure that you are prepared for the process.
We help clients in the following areas: Sacramento, Elk Grove, South Sacramento, West Sacramento, Natomas, Citrus Heights, Antelope, Fair Oaks, Gold River, Rancho Cordova, Roseville, Rocklin, Lincoln, Wheatland, Yuba City, Marysville, Woodland, Davis, and Lodi.