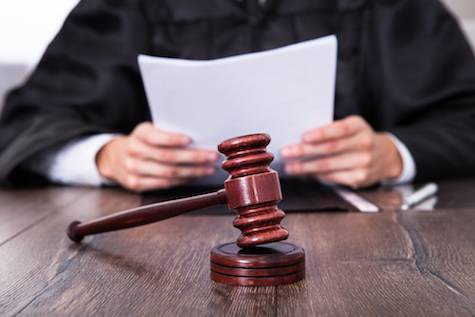 Filing a request in Court can be done throughout various court processes. Whether you are filing a lawsuit against someone for a breach in contract or filing for bankruptcy, you may choose to file a motion requesting the Court make a ruling on an issue. When it comes to dealing with a bankruptcy case, it is important that your attorney fully understands and knows when a motion needs to be made. These motions can be extremely crucial for your case.
FILING A MOTION IN A CHAPTER 7 OR CHAPTER 13 BANKRUPTCY
When filing under Chapter 7 of the Bankruptcy Code, you will most likely not be required to file any motions. However, your creditors could still file motions in your case. It is important to pay attention to any motions that your creditors file and for your bankruptcy attorney to explain what it entails. Failure to do so may affect your case.
If filing a Chapter 13 bankruptcy case, you will likely be required to file a handful of motions in relation to yourself, the creditor, and even the trustee. Like a Chapter 7, you will need to keep track of any motions filed by your creditors.
MOTION TO CONFIRM
One of the most important motions filed in a bankruptcy case is the Motion to Confirm. When filing for Chapter 13 relief, you are required to create and file a Chapter 13 Repayment Plan with the Court. This document provides an overview of which creditors you are required to pay back, how often the payments occur, the method the money will be received, as well as how much each payment will be. The repayment plan lasts for no less than 3 years but no more than 5 years. 
Once the repayment plan has been established, it will be filed with the Court. If the Court does not notify the creditors of the plan, it is the debtor's responsibility to ensure the creditors are made aware of the plan. To do so, you must file a Motion to Confirm. With this motion, you will demonstrate to the Court why this plan must be confirmed. You will attend court and present your motion to a Judge at a Confirmation Hearing. The Court will hear the motion arguments and confirm your Chapter 13 Plan as long as it addresses every claim that was initially filed, and the Judge deems the debtor fit to complete it accurately. This generally takes place within 45 days after the 341 Meeting of Creditors.
During the Confirmation Hearing, the opposing party or your trustee have the opportunity to explain any objections if they are not in agreement with the proposed plan. For example, the trustee may object if they feel the amounts established do not properly reflect the capabilities of the debtor. If the trustee feels the debtor could afford to make greater payments, they may present this in their objection. Objections to the Motion to Confirm are generally due at least 14 days in advance of the scheduled hearing. If an objection is filed against your Chapter 13 Plan, you could potentially need to make adjustments to your plan and fix any errors that may have been made or argue with the creditor's objections should be overruled.
MOTION TO MODIFY
A Motion to Modify is exactly what it sounds like. If a change occurs that affects an obligation established through the Court, you must file a Motion to Modify. If you have filed for bankruptcy relief under Chapter 13 of the Bankruptcy Code and are currently in the midst of completing your Chapter 13 Plan, you must report if any financial changes occur. For example, if you recently started a new job and are making more money than you previously were, you must notify your attorney of these changes. Your attorney will then help you prepare a Motion to Modify the Chapter 13 Plan. Similar to a Motion to Confirm, you will present your case to the Judge and demonstrate the need for a modification.
MOTION TO VALUE
When filed during a Chapter 13 case, a debtor can benefit from filing a Motion to Value. A Motion To Value asks that the Court assess the value of an asset. This is extremely useful in a bankruptcy filing because it sets the amounts for how much assets are worth.
For example, in a bankruptcy filing, a debtor may file a Motion to Value in order for the Court to assess how much their home is worth. By doing so, any junior mortgages that involved with your home may be reevaluated, allowing you to potentially eliminate your second mortgage altogether. To do so, you must convey to the Court that the monetary amount owed to the bank on the senior mortgage exceeds the home's actual worth. By stripping the lien, your mortgage will instead be converted to an unsecured debt, which could be wiped out upon receiving a discharge. It is important to note that this cannot be done on your primary and initial mortgage---this is only available for a 2nd, 3rd, etc.
Alternatively, a Motion to Value may also be used in regard to any vehicles. Similar to with property (i.e. your home) , if the outstanding balance exceeds the car's market value, the Court will allow for that difference of debt to become unsecured.
A Motion to Value can also be filed on goods, such as furniture. Again, the Judge will reevaluate the worth of the asset and determine whether or not the debt can be adjusted. By successfully filing a Motion to Value, you may be able to decrease your debts greatly and have a smaller monthly payment.
The motion will allow for liens to either be "crammed down" or "stripped". A cramdown means that the values of any liens have been reduced. One of the best instances in which a cramdown may be used is in regard to car payments, as long as you have owned the car at least 910 days prior to filing. If you listed that you still owe $25,000 towards your car payment but your car's value has depreciated to $20,000, you will only be required to pay $20,000, and the remaining $5,000 will be shaved off your secured debts and be put into the unsecured pile. While this can be used in several instances, it cannot be used for your home. Instead, the lien may be stripped. As previously mentioned, when you have more than one lien on your home and are able to demonstrate that the home's value is greater than the remaining balance on your secondary mortgages, the lien may be stripped, and the debt will be converted to an unsecured debt. Upon receiving your discharge, the lien will be removed entirely.
MOTION TO AVOID LIEN
If you fall behind on payments to creditors, they have the right to file a lawsuit against you. In some cases, debtors may still neglect to make payments even after creditors have won their lawsuit. Creditors can choose to place a lien on your property. A lien provides creditors with a source of collateral in case you fail to repay your debts. This will allow creditors to seize the property and sell it to repay the debt owed.
When filing for Chapter 13, you may file a Motion to Avoid Lien. In order to do so, you must demonstrate that the lien is harming your use of an allowed exemption. For example, if a creditor has placed a lien on a property and that property has no equity in it without even factoring in this lien, you may file a Motion to Avoid Lien and present the Court with evidence showcasing that you do not have any equity in the given property.
MOTION TO INCUR DEBT
A Motion to Incur Debt allows you to take on any new debt during your Chapter 13 filing. When completing the bankruptcy process, you must notify your attorney and the Court of any financial changes. This includes getting permission before applying for any new loans or creating any other payment plans. If the Court denies your motion, you will not be able to incur any new debts.
MOTION FOR RELIEF FROM AUTOMATIC STAY
A Motion For Relief from the Automatic Stay is filed by creditors to prevent the debtor from receiving protection under the Automatic Stay. When filing for bankruptcy, the Automatic Stay is enacted to prevent creditors from taking any further action against you. This prevents the filing of any new lawsuits, home foreclosure, evictions, utility disruptions, and even creditor calls. Generally, a Motion for Relief from the Automatic Stay is filed by secured creditors during your Chapter 7 or 13 Bankruptcy when they want to, based on certain laws, foreclose on your house or repossess your vehicle. If granted, you will no longer be protected by the automatic stay and creditors can continue to take action outside of your bankruptcy case against that specific asset. For example, if you are no longer protected by the Automatic Stay, creditors may pursue a home foreclosure against you. You will be notified if a creditor has filed a Motion for Relief from Automatic Stay and have the opportunity to object. It is crucial that you and your attorney understand the law and how to properly object to this.
MOTION TO EXTEND AUTOMATIC STAY
While creditors may choose to prevent you from relief under the automatic stay, you are able to file a motion to extend the period of time you are protected by the Automatic Stay. If you have previously filed for bankruptcy within a year of your ongoing case, the Automatic Stay will continue for only up to 30 days since your filing date. By filing a Motion to Extend Automatic Stay, you must establish that the ongoing case is occurring as planned and will continue to do so. If successful, the Court will extend your Automatic Stay, and you will continue to be protected from creditors' further actions.
MOTION TO INITIATE AUTOMATIC STAY
If you have filed multiple (at least two prior + the current one) bankruptcy cases within a year of the ongoing case, you will not automatically receive protection under the Automatic Stay like you did with the first two filings. By filing a Motion to Initiate Automatic Stay, the Court may allow for the stay to be initiated and you will continue receiving protection from creditors.
OBJECTION TO CLAIM
When completing your bankruptcy filing, you must provide a list of all outstanding debts and to whom they are owed. Although you have listed it, the creditor must file a proof of claim establishing that you have incurred this debt and owed them X amount of money. Creditors have 70 days to file their proof of claim. If they fail to do so in time, you will not be required to pay this debt through your Chapter 13 Plan. If the creditor reports an amount differing from the one you have listed and is claiming their amount to be correct, you can file an objection to claim. By doing so, you will have the opportunity to explain to the Court the inconsistencies, and the Judge will establish an appropriate value.
When filing an objection to claim, you must provide the Court with who made the initial claim, when it was filed, the amount listed, and its claim number. To further the success of your objection, it is important to gather any material that will prove that claim is false.
MOTION TO DISMISS
If the creditor feels you are not following the guidelines established in the bankruptcy proceedings, they may choose to file a Motion to Dismiss. For example, if you have defaulted on payments to your trustee, they may respond by proposing the Court dismiss your case. If the Judge is in agreement, the Court will dismiss your case and you will no longer be receiving relief through the bankruptcy process.
If a creditor has filed a Motion to Dismiss, you can respond by filing an objection. If the Motion to Dismiss was filed due to a specific issue and you are able to provide an alternate solution, your objection may be granted. This may involve making changes to your existing Chapter 13 Plan or even converting your case to a Chapter 7, if you are able to.
HOW CAN WE HELP?
Motions can have a huge impact on your case. Whether you are choosing to file a motion, or your creditor has taken action against you, it important that you understand what that entails. By contacting Sacramento Bankruptcy Lawyer today, attorney Pauldeep Bains will use his extensive knowledge of understanding each motion and experience filing these motions to ensure that your case is not jeopardized in any way.
We help clients in the following areas: Sacramento, Elk Grove, South Sacramento, West Sacramento, Natomas, Citrus Heights, Antelope, Fair Oaks, Gold River, Rancho Cordova, Roseville, Rocklin, Lincoln, Wheatland, Yuba City, Marysville, Woodland, Davis, and Lodi.